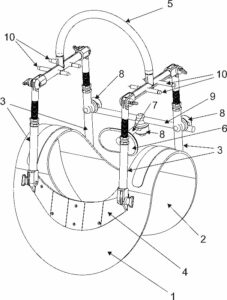 1 – front of the shoulder-chest, 2 - back of the shoulder-chest, 3 – telescopic movable and fixing supports , 4 - plate, 5 - devicef for head, 6 – plate-reklinators, 7 – support screw, 8 – clamp fixing, 9 – beam, 10 – cortical screw
Of great importance in the treatment and rehabilitation care for damage to the cervical spine are devices that provide immobilization of the spine, eliminate the load on the spine, can be used both in transportation and in the subsequent treatment of the patient.
For such clinical cases, a portable system for fixing the cervical spine has been developed and produced.
Scope
It is used for immobilization and traction of the cervical spine for a long time, when transporting patients with cervical spine injuries, in the subsequent conservative treatment of cervical spine injuries, in preparation for surgery and during surgery, as well as during rehabilitation.
Features
 – The device has the increased distraction – fixing ability.
 – The materials used for the manufacture of the proposed device do not interfere with such examinations as X-ray, NMR tomography.
 – Allows surgery for both anterior and posterior access.
 – allows you to actively care for the patient.
 – Carry out rehabilitation measures for a long time.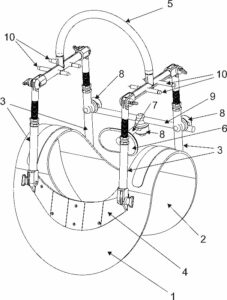 1 – front of the shoulder-chest, 2 - back of the shoulder-chest, 3 – telescopic movable and fixing supports , 4 - plate, 5 - devicef for head, 6 – plate-reklinators, 7 – support screw, 8 – clamp fixing, 9 – beam, 10 – cortical screw